We ship products by UPS Ground. We specially over-pack so products arrive on time, and in undamaged condition.
Shipping Times
The following are estimated normal shipping times for most of our our products that ship from our Lexington, KY location. We have additional shipping locations throughout the country for specific products in some areas.
Orders received by 1pm EST usually ship the same day.
Special late ship accommodation can ship as late as 7:30 PM EST for an additional charge when available.
Please contact us for a specific freight quotation or delivery time.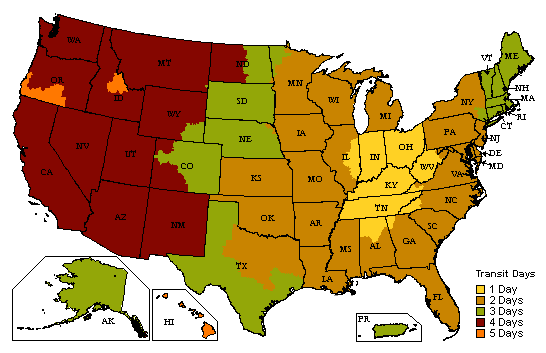 Shipping Policy
Shipping charges are calculated by the shopping cart and displayed upon checkout. Some combinations of products and supplies may calculate an excessive shipping amount. We will correct the shipping charges before settling your order if shipping costs are actually lower. If shipping calculation appears excessive, please contact us, and we will be happy to quote you an actual corrected lower freight for your order if applicable.
Products not designated Shipping Included are shipped UPS Ground, or Priority Mail, with charges added to the order upon checkout. All Shipping charges will be clearly indicated after you enter your Billing and Shipping Information, but before you enter your Payment Information. Upon your approval of the order, you will then to proceed to checkout.
Products designated Shipping Included will ship UPS Ground Service to locations only in the continental U.S.
Price indicated includes all shipping and packaging costs.
UPS Next Day Air Service and UPS 2nd Day Air Service are available for some approved products for an additional charge.
Please contact [email protected] , or call 1-859-225-0981 for special shipping options.
Most shipments to Alaska or Hawaii are shipped through a freight forwarder for an additional charge. We will be happy to provide a shipping cost quotation. Please allow up to 3 weeks for Alaska and Hawaii deliveries.
If you have trouble calculating freight charges, or need assistance placing an order, simply email or call us at :
PaintSource Network LLC
Versailles, KY 40383
1-859-225-0981
Return Policy
Returns or exchanges will be accepted with pre-authorization. We will gladly provide a refund for merchandise returned, less shipping charges and applicable restocking charges.
All Sikkens Wood Care Products require a 20% restocking charge.
Waterlox, One TIME, Structures Wood Care, and all other products carry a 5%-10% restocking fee.
All items must be returned for a refund or exchange within 30 days of receipt date, and must arrive in unopened and undamaged condition. You must ship liquid products in our special packaging in which you received the original order.