PaintSource, by Doug Wilson and BJ Andriot, is a long trusted resource for years of experience, expertise, and knowledge of all coatings and wood finishes for equine structures. We have an extensive track record in the business, having served central Kentucky farms for over 30 years. 
Andriots Paint Source offers an extensive range of consultation and procurement  services specializing in horse barns and other wooden structures. As a wholesale distributor of premium paint and wood finishes, their team provides comprehensive video reviews and analysis of all coating options, as well as tailored project specifications to insure the best products and finishes are used on every new structure. 

Andriots Paint Source features our guaranteed systems for coating and maintaining all surfaces in the barn including wood, metal, and concrete.

Contact Andriots Paint Source today at 859-225-0981 to schedule a consultation to discuss your next project. Email [email protected]

Waterlox for Horse Barns
Andriots features the absolute best wood finish system for a horse barn. Our featured system includes Zar Oil Stain with Waterlox Marine Sealer for an elegant and highly functional wood finish for equine related structures and elements. 

Browse our discussions here
Staining Pine in Horse Barn
Clients can achieve any color desired with 1 or 2 colors of Zar Oil stain, mixed with Waterlox Tung Oil Finishes.
You can mix up to 1 quart of Zar Oil Stain with 1 gallon of Waterlox Marine Sealer. 1 to 4 mix.
For pine, and other soft woods, 4 total coats of waterlox are required for extreme waterproofing and a uniform sheen.
Simply apply 1 to 2 coats of Waterlox/ Zar blend to seal and stain in one step, followed by 2 coats of Waterlox Marine Sealer without stain.
There is no film to peel with a Waterlox system. There is no sanding required to recoat when desired.
Waterlox Tung Oil Finishes are considered food safe 30 days after application.
There is no documented testing as to animal safety if ingested, but I believe Tung Oil is definitely safer than the raw materials contained in the widely used and often failing Minwax Helmsman Spar Varnish.

Waterlox Tung Oil Finishes provide extreme waterproofing while naturally beautifying all wood species and surfaces.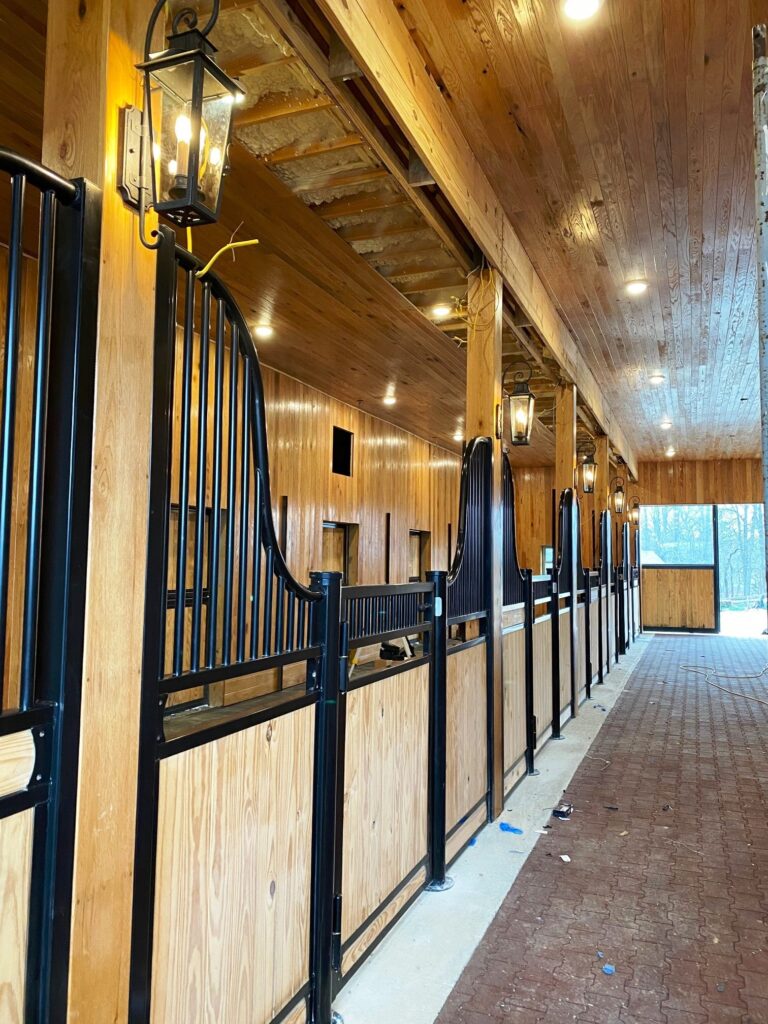 Waterlox TB 5284 Original Sealer Finish Gallon

Waterlox Original Sealer / Finish is a tung oil based penetrating sealer and finish all in one. Waterlox Original Sealer & Finish is designed for use on interior wood surfaces including floors, windows, doors, cabinetry, woodwork, tables, furniture, and various woodworking projects.

$

69.68
Everything You Need to Know About Waterlox For Your Barn
Check out our YouTube playlist below for a series of videos that Andriots PaintSource has produced about using Waterlox for waterproofing and sealing barns. We cover everything from choosing your products and tools to how to apply the product for best results.